Character name: Jan Valentine
Code name/ Alias/ nickname:
He hasn't one really, but he has heard some people call him "YOU CRAZY MOTHER FUCKER!!!"
Weapon Name:
Jan uses a pair of heavily modified, suppressed FN P90s.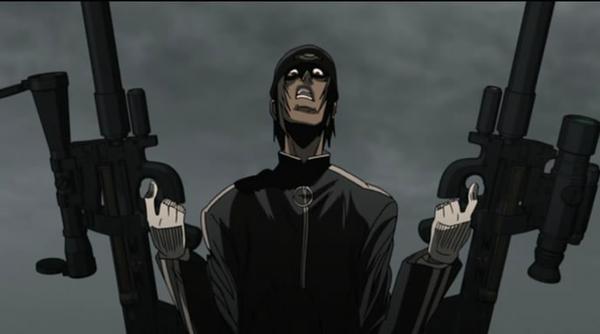 Ability name:
Twisted windstorm
Flame:
Storm flame
Desired Rank: Millefiore Storm funeral wreath
Desired Family: Millefiore
Age: 23

Character Appearance:
Appearance wise, Jan has tan skin and gold eyes with black hair. He wears white gloves and a dark blue beanie with an odd eye symbol outlined in gold on the front. Jan also has multiple piercings, some in each ear, nose piercings, an eyebrow piercing, a cheek piercing, and two piercings on his lower lip. He normally wears a dark blue high-collared sweatshirt and dark blue pants, both of which have white lining, he feels relaxed and chilled that way. He wears his funeral wreath jacket open and his shirt out of his pants. He smiles a lot.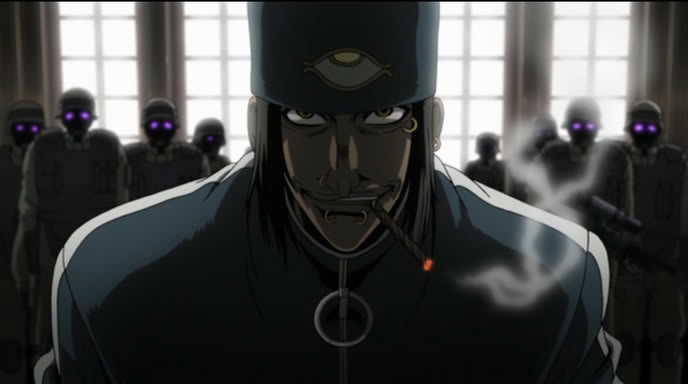 Character Personality:
By his clothing and mannerisms Jan is a stereotypical chav. Jan is volatile and rude, constantly spewing forth random profanity and making lewd (often disturbing) comments. He has more luck that brains, but he has his moments as well. He likes to be around people and he has a very large sense of humour meaning that he thinks of almost anything as a joke even if the other person is starting to get rude and starting to jell at Jan with seriousness. Although Jan's humour is mostly sadistic and unpleasant to others, he himself has no problems with it. Of course he has a completely different attitude against his boss. He can switch from rude and disturbing to calm and composed in the same moment his boss walks in the same room as him. He goes as far as to take every job he has been given a big joke and mostly ends them with a sadistic laugh. His manners have rotten, if he had any that is, his cockiness has risen to a high level and his mind has become black and dark, like every teenagers mind these days.

Character Background:
The background of Jan is not the one of a nice, good boy; it's more of a little punk's or hooligan's background. If it would be in chapters than it would be like this:
Chapter one: The overview
Jan was born in Italy, Venice; the place where he continued his life in the care of his parents. They were kind and loving. A lovely mother and a kind father and both took care of Jan. They didn't let him out of their sight. Every day Jan was taken care off. With parents like his, which some would do everything to get them even kill, why would he grow up to be a lewd, rude and sadistic person like he is now? They had a great life in Venice. His father was a butcher and owned a butcher shop while his mother took care of him every day and helped his father in the shop as well. They lived in a two story building in the Apartment, which was above the shop his father owned. His father made good money and it would seem that they would live happy forever.
Chapter two: A blood soaked beginning
Like every family which owned a business the mafia quickly cam and wanted a share of the money. And so it was. One day two men in black came to their shop. Another one was waiting in the car for the two men to come out so they could get going to whichever mafia activity they were up to. Jan couldn't see anything of course his mother told not to come down and play above which sadly only rose his interest in the things happening in the shop. Jan listened to the conversation they had. It was a calm and normal conversation although they were from the mafia. They used the usual line like "In this city t is best to have protection." But he couldn't hear anything like "We don't want something bad to happen, right?" or "You will sleep with the fishes, you got that?". Jan was relieved, but then… a screeching sound could be heard. It was the sound of a car going in a turn to fast and almost falling over. The man in the car yelled "Duck!" but before the two men or Jan's parents could do anything a car drove past and two other men in other suits leaned out off the cars windows with Tommy guns. Of course you can guess what happened next. Gun shot could be heard and windows breaking. A few helpless screams of pain could be heard as well from his parents and the men. After the ruckus the car turned around and drove past the shop again. Jan could hear sound like a bottle was thrown against asphalt or a house made of bricks. Jan ran quickly down the ladder and his eyes opened wide. His parents lying motionless on the ground, his mother's arms around his father and the men weren't in a better condition. Everyone with holes in their bodies lied on the ground in a puddle of blood. And not that it was enough, they were burning as well, it seemed as if the sound of a bottle breaking was a Molotov cocktail. Jan was frozen on the spot, fear and anger was mixing together making him unable to move. Jan then was scared fro a flame that left burn on his arms as he blocked them. He fell back on the floor. Jan rose to his feet and ran upstairs. Through his room and then; out of the window. Jan carefully went to the corner of his home to see what was happening in the front. A crowd of people would stand and look at the flames that were coming out of the window. Jan the saw men in suits and easily came on the conclusion that they were the ones responsible. Jan started to run as he saw the men look at him. They started to run after him. Jan could hear sirens from the fire trucks and the yells of the men who were chasing after him. From whatever reason he had a large amount of energy to run away, but that didn't really mean anything as the men were closing in. Some were caught by cops, but one remained. The last one chased after Jan until he went into an alley. The alley had only one exit and that was blocked by the man now standing there. He came closer calling Jan a brat and saying he gave him trouble. He took Jan by his hand and drew him along. Jan rammed a kitchen knife in the side of the man. He had taken that from the floor when leaving his house. The man fell to his knees and cursed Jan. Jan then picked up a empty bottle from the container next to him. He did a swing with all his strength and felt the bottle connect. With the bottle breaking and shattering into many pieces of glass and a loud yell the man went to the ground. Because of fear that the man would wake up Jan took the knife and started to cut the man. Jan left the knife inside the, mans chest and Fell backwards. The sky had turned grey while the events had happened and it started to rain. Jan was out of breath and he was soaked in blood. A moment spent in the rain and Jan had though about what to do now. Jan knew that first he needed money so he crawled to the man and searched him. Jan took the, mans wallet and ran out of the alley past some people walking around there. Luckily no one had heard or seen the events in the alley.
Chapter three: The path of flowing blood
Later that day when Jan had found a place to stay. Jan had paid with the money of the man and luckily the rain had washed most of the blood off of him. Jan went to the room he paid for and washed his face. He then raised his head and looked in the mirror. Jan started to laugh loud, he didn't know why, but he did so. Maybe he had found a twisted pleasure in killing the man. Well if not than that day was the day when he changed completely. He wasn't nice anymore. He knew he hadn't enough money for all of his life so he started to work. He didn't like it, but he didn't have a choice. When he turned eighteen, he opened his own business. He became a hitman. Although he didn't get many customers at start he became popular when someone had a plan to hire him and then he would die while doing the job. Surprisingly enough he succeeded and became popular between the hitmen society. Getting plenty of jobs and plenty of money Jan worked like that for five years until he heard about the Millefiore family and decided to take his chances.
Role play sample: Hayato was still roaming the Forest of Menos. He had already gotten a lot stronger then he was when he came here the first time. He had learned to control his new body very well. Some of the most powerful Gillian had fallen by his claws and teeth. He had made the hideous creatures in this forest run away terrified. Every single Gillian in this forest was so scared that it couldn't move when Hayato was walking past it. Hayato knew there were one or two other powerful Gillian somewhere. Yet he didn't want to kill them.
When he was still in the World of the Living he saw some of them. The guardians of the humans. The protectors of good. The slayers of demons. The Shinigamis. With emotionless faces they draw their Zanpackutos and with the same faces they slay Hayatos kind. One after another Hollows fall to them. They protect the lowly, pathetic Humans. Hayato had a nickname for them himself... food. The Shinigamis use their power to save them from Hollows... what a waste of potential. Because of them Hollows almost starve and are too weak to fight. Those idiots, yet they are too delicious to resist. That's the reason Hayato picked one fight after another with them. Sometimes he lost a limb or two, but it was certainly worth it. Luckily the war affected them as well.
Anyway. They were the worthiest opponents on Earth, but here there was no one to match Hayato. Hayato was walking through the forest. He had walked it so many times he seemed it was one and the same path he took all the time. It was as if he could close his eyes and walk through the forest blindly. Hayato was sick of killing these mindless creatures all the time. He was looking for someone who could kill Hayato or someone who at least had the intention to. Not only once had Hayato cheated death. Oh no it was the other way around. Hayato always had so many opponents he was in a circle of Ceros all the time. But somehow he had always escaped deaths claws.
Hayato was walking further as he saw two Gillian fighting. They were slashing with their claws at each others mask. Each time even the slightest scratch was dealt they screamed as if someone was ripping out their heart. Seeing it Hayato slowly lifted his arm and felt his own mask. It was cold and blood was spilled over it. Hayato had lost himself in his thoughts. As he came back to his senses the battle was over. Somehow the two Gillian didn't feel Hayatos strong Reiatsu. Perhaps they were to cranked up? But still, somehow one of them managed to charge a Cero and fire it at the other Gillian's legs. There he stood now. Before the other Gillian lying in a puddle of blood. The other Gillian stood in front of him for a while and then turned around. He started to walk away slowly. Hayato standing behind a tree clenched his fist. In a few seconds he was behind the victorious Gillian. Hayato slashed with his claws across his legs, making him fall on his knees. Hayato packed him by the lower half of its mask and pulled his head backwards. They both looked in each others eyes. Hayato lifted his hand up and extended his claws making a loud noise and sparks when the sharp claws clashed together. "Fight to kill... OR DON'T FIGHT AT ALL!!!" Hayato yelled to himself as his claw slashed down, cutting through even the air. With all his might Hayato pushed them down just to kill one Gillian. Well there was nothing Hayato could do now. Blood spilled and a head rolled. Hayato walked a few metres south where the head rolled away. He picked them up and walked back to where he came from. With the head of the victorious Gillian in his right hand and his other hand free he walked past the Gillian who lost. Hayato grinned in his mind as he slashed in the stomach of the other Gillian with a quick swing. He started to drag his claws in the Gillian's body. When he was at the head Hayato picked up speed and ripped its head off.
With both of his hands full he started to eat. But who would have guessed that? With taking the first bite and starting to chew the mask of one of the Gillian Hayato eyes opened wide. Hayatos head shot up. He was looking straight the one moment and then the next one he was looking at the sky. Well not directly the sky, but who cares? It was as if all of his body was burning. A large area around Hayato had a purple Reiatsu tornado around it. It was Hayatos spiritual pressure there was no mistaking. Hayato dropped the heads and they immediately burned to ash from Hayatos spiritual pressure. Hayato himself started to glow in a purple colour. Many Gillian and Menos gathered to watch what the hell was happening. Hayato was letting out screams in his Gillian voice. The purple form started to get smaller and smaller. It was still pretty big, but it was nothing much compared to a Menos or a Gillian. The purple colour vanished with the Reiatsu tornado at the same time. The Menos hiding behind the trees moved their heads to have a glance at Hayato. There was still smoke covering Hayato, but you could see that there was something moving. Hayato stood up and he was looking like his old self again. Smaller in size, but deadlier in power. He looked around and saw a huge crowd around him. "Knowing how mindless they are you would think they would now attack me, just because I have gotten smaller, but..." Hayato thought to himself. "I guess they aren't so mindless after all." Hayato closed his eyes. "It seems I have regained my ability to speak in a understandable tongue." Hayato said as he opened his eyes and knowing full well that he said the last sentence about the Gillian not being so dumb. "Finally." Hayato let out a sigh. "Those terrible screams were starting to annoy me. Hmm... it seems that consuming so many Hollows have affected my personality. Normally by this time all of you have been dead." Hayato said as his pupils were travelling from the middle to the left. Then he closed his eyes and when he opened them the pupils were on the right side. Hayato closed his eyes again. "But now when that killing intent doesn't control me and I'm fully aware of my actions... I'll spare you." As Hayato said that the Gillian started to run around scared. After a minute or two when the whole bunch was gone Hayato started to walk. "I have reached my full potential here. It's time to see what else there is except Hollows as tall as a skyscrapers and trees that don't seem to have an end." Hayato started to walk with the objective to get out of the Forest of Menos.